Newport Beach in Orange County offers some of the best coastal and waterfront living available in California. Set among 26 square miles of land, the Newport Beach and Corona del Mar areas offer over nine miles of ocean frontage, and 25.4 miles of harbor frontage, equaling a total of 34.4 miles of water frontage throughout the city. To find out more about waterfront areas within Newport Beach, please go to Renee's blog.

There are several available real estate homes for sale along the ocean front and bay front. The majority of the bayfront homes have private piers; giving you access to Newport Harbor's waterways directly from your dock. A boating guide is available on Renee's blog here for those looking to explore the waterways. There are also several yacht clubs lining the waterways in this area; click here for a list of local yacht clubs.

As a bayfront owner herself, Renee West has extensive knowledge of the waterways throughout Newport Beach. If you are looking for more information on waterfront homes for sale throughout the area, please give me a call at (714) 914-9060 or send me an email at rwest@villarealestate.com You can also browse the MLS for waterfront listings, or view current listings in the area here.
Learn more about living in Newport Beach, real estate in the area, and events and things to do around Orange County by going to my blog, www.ReneeWestBlog.com, or by subscribing to my monthly newsletter below.


If you are interested in seeing the current waterfront listings for sale, please contact me for your own private tour on the water! I would love to pull out my duffy boat so that you can see some of these luxury homes from the water! - Renee

---
LAND AND WATER STATISTICS FOR NEWPORT BEACH/CORONA DEL MAR:
| | |
| --- | --- |
| GENERAL STATISTICS | |
| Incorporation | September 1, 1906 |
| Elevation | Sea Level to 1,164 ft. |
| City Flower | Bougainvillea |
| City Tree | Coral Tree |
| | | |
| --- | --- | --- |
| AREA | | |
| Land | 16,654 acres | 26 sq. miles |
| Ocean | 14,894 acres | 23 sq. miles |
| Bay | 800 acres | 1.25 sq. miles |
| Harbor Waters | 800 acres | 1.25 sq. miles |
| Total | 32,148 acres | 51.5 sq. miles |
| | | |
| --- | --- | --- |
| RECREATIONAL ACREAGE | | |
| Ocean / Bay / Harbor | 16,494 acres | 25.77 sq. miles |
| Parks (58) | 450 acres | .70 sq. miles |
| Beaches 2.48% of land | 237 acres | .37 sq. miles |
| Total | 16,989 acres | 26.54 sq. miles |
| | |
| --- | --- |
| WATER FRONTAGE | |
| Ocean | 9 miles |
| Harbor | 25.4 miles |
| Total | 34.4 miles |
| | |
| --- | --- |
| NEWPORT HARBOR | |
| Boats | 9,900 |
| Piers | 1,230 |
| Commercial Slips & Side Ties | 2,330 |
| Bay Moorings | 1,235 |
---
For residents and visitors alike, Newport Beach remains an enchanting seaside city in southern California, with a rich cultural and historical backgound, and endless sites and attractions. This coastal enclave in Orange County is made of several quaint villages, each adding a unique element to the area as a whole.

If you are interested in seeing the current waterfront listings for sale, please contact me for your own private tour on the water! I would love to pull out my duffy boat so that you can see some of these luxury homes from the water! - Renee


BALBOA ISLAND
A charming island with narrow streets and more than 1,500 beach cottages; Balboa Island entices both visitors and locals throughout the year. With more than 70 boutiques, a gallery, gift shops, cafes and restaurants, this small island has much to offer. The historical Balboa Ferry departs from the Balboa Peninsula seven days a week, throughout the day and evenings, and arrives at Palm Street, providing a memorable ride across the bay. The ferry carries up to three automobiles and 30 passengers, charging a nominal fee for the ride.


CORONA DEL MAR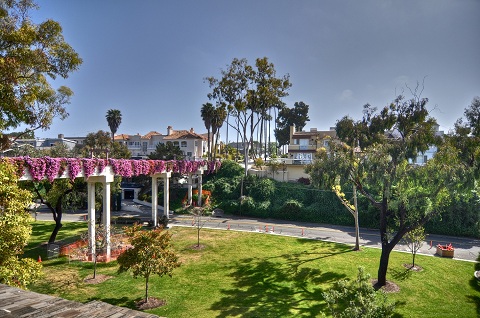 Known as the "Crown of the Sea," Corona del Mar is a coastal village with small-town charm, boasting some of Southern California's most scenic beaches. At the entrance of Newport Beach, located on the beautiful bluffs, overlooking Corona del Mar State Beach, lies this beautiful village, which exudes a genuine small-town warmth while enjoying spectacular views of the Pacific Ocean, glistening beaches, Newport Harbor, and the Balboa Peninsula. This quaint village harbors a multitude of attractions, from a variety of shops and boutiques, to an array of first class restaurants. Hidden among the flower-named streets are many treasures: Inspiration Point, Lookout Point, China Cove, Little Corona State Beach, Lookout Point and Inspiration Point provide breathtaking views of the ocean and harbor, tide pools, a historic footbridge and even a small Community Congregational Church, which was commissioned with permission of President Franklin D. Roosevelt during World War II. The village strives to preserve its ambiance and small-town charm.


BALBOA PENINSULA
The Balboa Peninsula is home to the historic Balboa Fun Zone, which has served as entertainment for people of all ages since 1936. The Fun Zone features a Ferris wheel, merry-go-round, bumper cars, as well as bicycle, boat and skate rentals. The Balboa Pavilion, dating back to 1905, is Newport Beach's most famous landmark. Completely restored, the Pavilion houses the Tale of the Whale Restaurant, specialty shops and chartering outlets. Harbor boat tours, sport fishing expeditions or whale watching trips can be arranged, and the Catalina Flyer catamaran departs daily from the Pavilion for a 26-mile cruise to Santa Catalina Island. For fresh seafood, visitors can wander through the Dory Fishing Fleet open-air market, a landmark since 1891, to select their favorite catch. Newport Pier and McFadden Square are known for fresh clam chowder and delicious fish tacos.



LIDO MARINA VILLAGE
Reminiscent of a European open-air marketplace, Lido Marina Village is located along the harbor and features 35 shops. Visitors will not want to miss Via Oporto, a charming cobblestone street lined with galleries, boutiques, and antique shops. Nearby Cannery Village, with its narrow streets and renowned fishing fleet, offers antique and collectible stores.


MARINER'S MILE
A nautical community, Mariner's Mile is located along west Coast Highway and is the home to the Orange Coast College Intercollegiate Sailing and Rowing Base, and the Sea Scout Base. Yacht surplus stores are abundant and 18th-20th century marine art can be viewed at the Vallejo Gallery. The marina offers dining cruises or romantic journeys through the Newport Harbor canals in a 25-foot gondola or 70-foot wooden schooner. Mariner's Mile is also home to the Newport Harbor Nautical Museum, located on the famous "Pride of Newport Riverboat" paddle wheeler docked in Newport Harbor. Several restaurants can be found along Coast Highway with fabulous views overlooking the harbor area.


OLD NEWPORT BOULEVARD
One of the oldest areas in the community, Old Newport Boulevard still retains its old-fashioned neighborhood charm. As you travel along the boulevard, you'll notice a delightful collage of architectural styles, from Cap Cod to Tudor, plus numerous original buildings, some from the 1920's and earlier.


UPPER NEWPORT BAY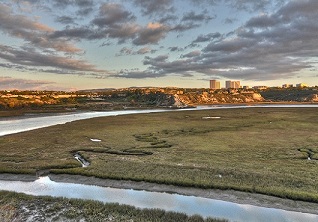 Located between Jamboree Road and the Pacific Coast Highway, the Upper Newport Bay Ecological Reserve is a 752-acre coastal wetland where thousands of birds find refuge. The reserve is an ideal year-round spot for bird watching, hiking, boating and fishing. The 10-mile loop trail weaves around the Upper Newport Bay and is frequently used for jogging or bicycling. Naturalists with the Department of Fish and Game offer free two-hour walking tours. The Newport Aquatic Center is located on North Star Beach and offers rowing, kayaking and canoeing clinics on Saturdays and Sundays. The Peter and Mary Muth Interpretive Center is a state-of-the-art cultural center offering various educational displays and videos showcasing the natural environment and ecosystem. With over 10,000 square feet of meeting and exhibit space, the center is open year-round. Families will enjoy Newport Dunes Resort, a waterfront RV resort situated on the shores of the Back Bay. The Dunes offers water sports and beach rentals, as well as sailing and windsurfing lessons. The property also includes a clubhouse, playground, fitness center, swimming pool, cafe, and grocery store.

Information courtesy of the Newport Beach Conference and Visitor's Bureau
For more information and history of our local areas, please go to Renee's blog at www.ReneeWestBlog.com.
Villa Real Estate
450 Newport Center Drive, Suite 100, Newport Beach, CA 92660
Renee West Villa Real Estate
450 Newport Center Drive, Suite 100, Newport Beach, CA 92660